Formed: 7 Jan 1917, Montrose
Disbanded: 31 Dec 1919
Reformed: Aug 1936
Disbanded: 1 Jan 1956
Reformed: 21 May 1957
Disbanded: 31 Aug 1969
Squadron was based at:
RAF Hemswell :: ??
RAF Turnhouse :: - Mar 1938
RAF Scampton :: Mar 1938 - 15 Aug 1942; Oct 1960 - 31 Aug 1969
RAF Wyton :: 15 Aug 1942 - 18 Apr 1944
RAF Coningsby ::18 Apr 1944 - Jul 1946
RAF Hemswell :: Jul 1946 - 1 Jan 1956
RAF Waddington :: 21 May 1957 - Oct 1960
Squadron code: QQ (pre-Sep 1939), OL
Aircraft operated:
FE2b :: Jan 1917 - Dec 1919
Hampden :: Nov 1938 - Jan 1942
Manchester :: Dec 1941 - May 1942
Lancaster Mk I, Mk III :: May 1942 -
Vulcan B1 :: Jul 1957 - Aug 1960
Vulcan B2 :: Dec 1960 - Aug 1969
83 Sqn RFC formed on 7 Jan 1917 at Montrose. It departed for France in Feb 1918, conducting night bombing and recce until the close of the war. When it returned to the UK in Feb 1919 it was reduced to cadre strength, disbanding on 31 Dec 1919.
Reformed in Aug 1936 as a bomber sqn, 83 Sqn moved to RAF Scampton in 1938 with the Hampden. During Aug 1940 the Sqn participated in the attack on an aqueduct forming part of the Dortmund-Ems together with 49 Sqn. It also attacked the Scharnhost, von Scheer and Tirpitz. At the end of 1941 it re-equipped to the Manchester using this type in the 1000 bomber raids against Cologne and Essen. The Lancaster soon replaced it and the Sqn moved to RAF Wyton in Aug 1942 to join the Pathfinder Force and 8 Gp.
Other notable wartime missions included the Battle of the Ruhr from Mar 1943, the Battle of Hamburg in Jul/Aug 1943 and the raid on Peenemunde on 17 Aug targeting the V-weapons research facilities. 83 Sqn was by now dropping 250 lb target indicator bombs in its Pathfinder role.
In Apr 1944 83 Sqn transfered from 8 Gp at Wyton to 5 Gp at RAF Coninsby to act as a Pathfinder Sqn specifically for independent operations by 5 Gp. During Operation OVERLORD Lancaster from 83 Sqn bomber gun emplacements of the night of 5 Jun 1944 then acted as a target illuminating force for the Saumur Tunnel attack on 8 Jun, enabling 617 Sqn to drop 12 000 lb Tallboy bombs. 83 Sqn's final wartime sortie came in Apr 1945 against Vallo/Tonsberg oil refinery.
In Jul 1946 the Sqn converted to the Lincoln, moving to RAF Hemswell in Nov, staying until disbandment in Jan 1956. It reformed at RAF Waddington on 1 Jul 1957, to become the first to be equipped with the Vulcan bomber, drawing 6 crews from 230 OCU. In 1960 it was upgraded to the Vulcan B2 and was equipped with free-fall nuclear weapons; these were later upgraded to the Blue Steel missile. The Sqn was disbanded at RAF Scampton in August 1969.
---
LAID TO REST 68 years on
Denis William Sharpe lost his life on 7 April 1940 as did the rest of the crew of the Hampden L4054.
The plane was believed to have been lost in the sea but in fact it crashed on land (near to St Mary's Lighthouse in Whitley Bay. In 2007 the plane was located by Russ Gray, a member of the North East section of the Air Crash Investigation and Archeology Group.
The Pilot, Navigator and Observer baled out over the sea but Denis remained with the aircraft which crashed just over the top of the cliffs with all its bombs on board. The plane had been damaged whilst on a mission over Sylt in Germany and was unable to jettison its bombs.
Denis's final resting place has now been ascertained, and a Memorial Service to all four members of the crew was held on 12 Apr 2008 at St Mary's Lighthouse, with a plaque in dedication to the airmen is to be housed permanently in the Lighthouse.
Denis was based at Scampton. He joined the RAF in 1937 and trained to be a wireless operator. He volunteered as a gunner when war was imminent. He was born in Leicester on 26 Sept 1916 and was killed on 7 April 1940. He was 21.
The three other crew members were:
Pilot - Wilfred Robers from Australia
Navigator - Keith Brooke-Taylor from New Zealand
Observer - Andrew McNichol from Barrow
this information was provided by Maureen Wheelhouse who was Denis's neice.
Pilot Officer 41206 Douglas D Redmayne died on 2 Jul 1940 and is buried at Kiel War Cemetery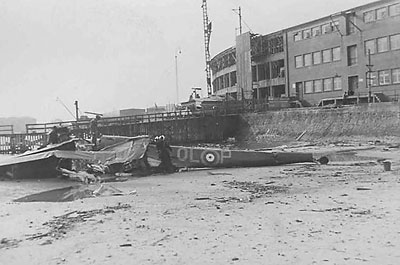 Page Hampden P1171 OL-P - Shot down by 6th Company of the Middle Sub-Group FLAK Command over Schleswig-Holstein, Germany, near the Keil Canal, caught by flak from guns placed near a navy yard. The plane crashed on the banks of the Schwentine River and all four crew members perished.
Plt Offr Douglas Redmayne, Pilot, Royal Air Force
Sgt. Cyril Lee, Pilot, Royal Air Force
Sgt. George Elliott Little, Royal Air Force, 30
Sgt. Owen Sandford Gander, Royal Air Force
Douglas's family in Bowling Green Road, Castletown, Isle of Man, got the first inkling he might be in trouble when they tuned in to listen to Lord Haw Haw, the German propaganda broadcaster. Douglas's nephew, Roy Redmayne, explained: 'My mum Olive listened to the radio and heard Lord Haw Haw, he said: "Last night your boys got a battering. Four came down over Keil." 'A week later a telegram arrived confirming he was missing presumed dead.'
The family had moved to Castletown from Canada in 1932 after Douglas's father died. Douglas was educated at King William's College and, being a US citizen — he was born in Nebraska — had no obligation to do military service. He joined 83 Squadron of the RAF along with Guy Gibson, who later formed 617 Squadron of Dambusters fame.
Roy, who lives in Castletown, was raised on tales of his uncle's heroism and visited his grave on the 60th anniversary of his death with Roy's son, Stephen. But the family did not know the exact circumstances surrounding the pilot's death until last month, when Roy's brother Robyn found more details on a Germany-based website. It includes photographs of the mangled wreckage of the Hamden with the sad, graphic description that the whole crew, including Douglas Redmayne, had suffered 'destroying of the whole body'.
Douglas Redmayne is remembered on the war memorial in Castletown on the Isle of Man.